Small Ambar Belt Oil Skimmer Cleans Tank With Hydraulic Oil
We continue our series about Ambar Oil Skimmers at work with  a demonstration in a shop of a small belt skimmer on a tote tank with hydraulic oil.  This machine works hard in relatively small spaces. In this video you can see how efficiently this smaller size belt oil skimmer works.
How About The SPARROW HAWK 2 Belt Oil Skimmer?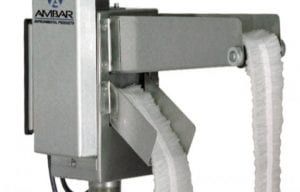 The SPARROW HAWK 2 (S-2) is an attractive choice for low volume hydrocarbon skimming because of  its amazingly simple operation.
A single, continuous loop of oil-attracting "mop" drops from the unit, travels across the surface of the contaminated area, and then returns to the unit where the oil is squeezed from the mop by squeegee rollers inside. Removed oil gravity drains from the unit through a 2" male NPT fitting at the base, which can also serve as a mounting point.
This unit is designed for both vertical and horizontal recovery of floating oils. The attracted extension chutes easily accommodates vertical skimming applications. For horizontal recovery, a tail roller can be placed inside the sump providing a return point for the loop of mop.
Like its predecessor, the tramp Champ, The SPARROW HAWK 2 Oil Skimmer is both quick and efficient when it comes to the removal of tramp oils from coolant tanks, wash water sumps or any small area where hydrocarbons accumulate. This second generation skimmer retains the remarkable skimming capabilities of the Original Tramp Champ and places emphasis on reliability and ease of operation.
For reliability, the S-2 incorporates a better entry chute plan that reduces the possibility of knotting or 'double casing.' A new redesigned drive mounts and drive system warrants smoother operation and reduce sprocket and chain attire.
For affluence of the functions, the drive scheme has been moved to the out of the unite providing several advantages. For one, upkeep could be done with negligible utensils and, in some instances, without stripping the entity. This trait also preserves the improved product and polluted mop from being intrusive with the drive scheme.
With over 40 years of experience in the oil skimming industry,
Ambar's highly qualified specialists can advise your facility management team how our waste oil recovery systems can be adapted to your specific requirements, as well as the best use of our waste oil recovery systems. To learn more about how our waste oil recovery systems can best serve your facility or to request a quote, please email us at info@ambarenvironmental.com. You can call our sales specialists locally at (504) 328-9877 or (504) 328-9874.
Call us toll free at (866) 462-6227.
We are located at 1030 Victory Drive, Westwego, Louisiana, 70094. Let your waste oils become our dilemma because we have the solutions!