Barracuda 4 – Ambar Oil Skimmers
This application of the Barracuda 4 Oil Skimmer is commonly called a "Scale Pit." The Barracuda 4 is a Belt Oil Skimmer, also known as a Tube Skimmer.
About The Barracuda 4 Belt Mop Oil Skimmer
The Barracuda 4 oil skimming system is designed for medium to large industrial applications such as pits, holding ponds, API separator waste tanks, or any location where waste oil collects. This unit is capable of pulling between 200 and 250 feet of Rope Mope and can achieve very high oil recovery rates. The Barracuda 4's high recovery rates can be attributed to its unique ability to utilize large or small belt mop or rope mop.
Because of its design, the Barracuda 4 can be adapted to suit many applications. Standard units come with 1/2 hp, 120/1/60, hazardous location motors. However, other drive options are available including larger hp motors, variable speed drives, and single or 3 phase and 120/240V. Complete, skid mounted skimmer systems and winterization packages are also available.
The Barracuda 4S is a complete oil recovery system. This system is designed to remove and recover surface oil, collect it in its intermediate storage tank, and automatically activate the oil transfer pump.
Product Overview
Dimensions: (B-4) 38-1/2''*19-5/8" (B-4S) 52-1/2''*52-1/8''
Weight: (B4) 102lbs (B4S) 425lbs
Power Requirements: 120, 240, 460 VAC
Recovery Element: OCW 3-4
Max Mop Speed: (single speed) 14 ft/min – (variable speed) 25 ft/min
Construction Materials
Housing: T-304 Stainless
Sump: Carbon Steel
Rollers: Buna-N w/ Aluminium Shafts
Rope Mop: Polypropylene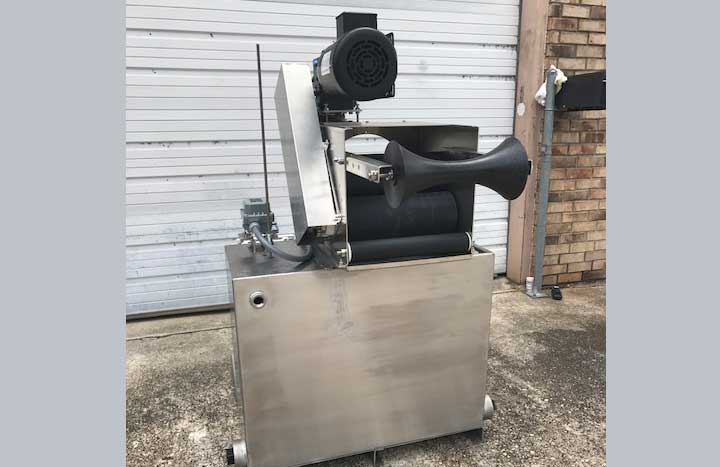 With over 40 years of experience in the oil skimming industry,
Ambar's highly qualified specialists can advise your facility management team how our waste oil recovery systems can be adapted to your specific requirements, as well as the best use of our waste oil recovery systems. To learn more about how our waste oil recovery systems can best serve your facility or to request a quote, please email us at info@ambarenvironmental.com. You can call our sales specialists locally at (504) 328-9877 or (504) 328-9874.
Call us toll free at (866) 462-6227.
We are located at 1030 Victory Drive, Westwego, Louisiana, 70094. Let your waste oils become our dilemma because we have the solutions!