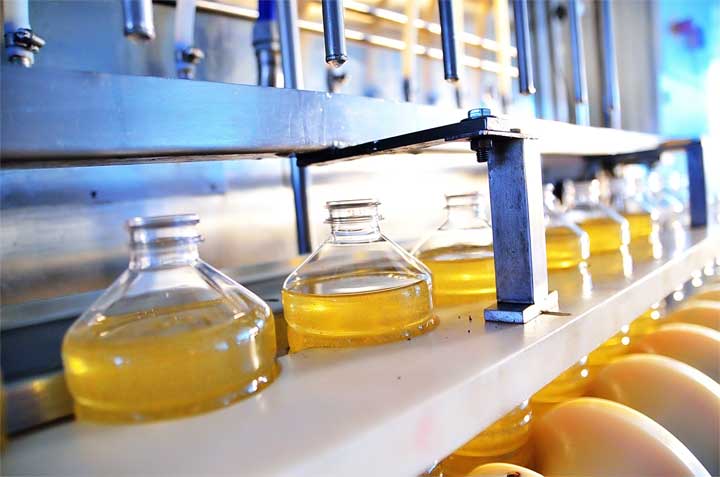 AMBAR Environmental manufactures oil sorbent rope mops, belt mops, and tube skimmer products that are the result of decades of research, development, and testing to refine the design to a highly efficient level. Although rope mop skimmers are an older, more tried and true, technology, they can run continuously and unattended. They are automated workhorses that can work extraordinarily well where relatively few solids are involved. AMBAR's rope skimmer system excels in the applications in the food processing industry, from wash water sumps to waste water treatment pits. The rope skimmer system's versatility affords it to exceed the capacity of tube skimmer products in the food processing industry.
AMBAR Environmental grapples with waste oils in numerous aspects of the food processing industry. This includes but is not limited to salad dressings, butter, mayonnaise, soybeans, and poultry. Waste oil is a natural byproduct in this industry. In wash systems, waste oils can leave residues on various parts. By using rope mop skimmers to remove them, the bath life can be extended in these wash systems.
Our waste oil recovery systems have been designed with ease of use and adaptability at the forefront. AMBAR's oil sorbent materials have been specially designed to leave virtually no waste oils behind, leaving your facility cleaner, safer, and healthier over all. AMBAR's highly qualified specialists can advise your food processing facility management how our waste oil recovery systems can be adapted to your specific requirements, as well as the best use of our waste oil recovery systems. To learn more about how our waste oil recovery systems can best serve your food processing facility or to request a quote, please email us at info@ambarenvironmental.com. You can call our sales specialists locally at (504) 328-9877 or (504) 328-9874. Call us toll free at (866) 462-6227. We are located at 1030 Victory Drive, Westwego, Louisiana, 70094. Let your waste oils become our dilemma because we have the solutions!