Carnival Season In New Orleans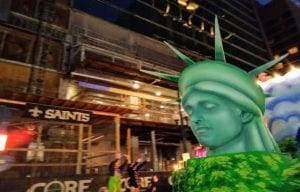 Down in New Orleans a truly crazy time is about to start. Carnival season began on 12th Night, January 6th, 2020. From now until Mardi Gras Day on February 25th, parades, parties and balls will be happening basically non-stop all over the city for Carnival Season. Mardi Gras is definitely a fun time to visit New Orleans, but you need to be prepared for some crazy times.
We want to make sure you don't miss any of the parades and other fun things going on all over town. If you are not a parade reveler, we want to prepare you for possible traffic nightmares during this Carnival Season. There is no parking on the parade route starting two hours before the parades and the parade routes will get blocked off for traffic. But, if you want to check out the parades, there is so much fun to be enjoyed all over town with beads, doubloons, and other collectible throws from famous parades like Endymion, Muses, Rex and Zulu that take place during Carnival Season.
Parade Schedule
Below find a list of some of the parades you don't want to miss this Carnival season:
       Saturday, February 8
Sunday, February 9
Friday, February 14
Saturday, February 15
Sunday, February 16
Wednesday, February 19
| | | |
| --- | --- | --- |
| Krewe Of Druids | 6:15 pm | Uptown |
| Krewe Of Nyx | follows | Uptown |
Thursday, February 20
Friday, February 21
Saturday, February 22
Sunday, February 23
Monday, February 24 – Lundi Gras
Tuesday, February 25 – Mardi Gras
All dates and times are subject to change.
With over 40 years of experience in the oil skimming industry,
Ambar's highly qualified specialists can advise your facility management team how our waste oil recovery systems can be adapted to your specific requirements, as well as the best use of our waste oil recovery systems. To learn more about how our waste oil recovery systems can best serve your facility or to request a quote, please email us at info@ambarenvironmental.com. You can call our sales specialists locally at (504) 328-9877 or (504) 328-9874.
Call us toll free at (866) 462-6227.
We are located at 1030 Victory Drive, Westwego, Louisiana, 70094. Let your waste oils become our dilemma because we have the solutions!